Companies rely on DayOff​
Countries rely on DayOff​
Day Off is built to suit different business types, and for every HR manager to plan, track and manage employees' leaves and PTO.
Vacation Tracker
Vacation, PTO, and Time Off Tracker enables you to easily track employees' balance of different leave types.
Approval Process​
Configure your approval process based on your workflow and team hierarchy.
Notifications
Employee and manager notifications for events like requests submission, approval, and announcements.
Sub Teams​
Create a sub-team with different policies, balances, and working days and add employees to them.
Powerful Reports
Get a full overview of your employees' PTOs and leaves with Day off powerful reports.
Mobility
Day Off is available as a mobile app so you can send or manage leave requests anytime and anywhere.
Discover the power of Day Off's free version! Track your team's vacations, leaves, and PTOs with unlimited number of employees. Upgrade to our PRO version for exclusive access to advanced features and take your team management to the next level!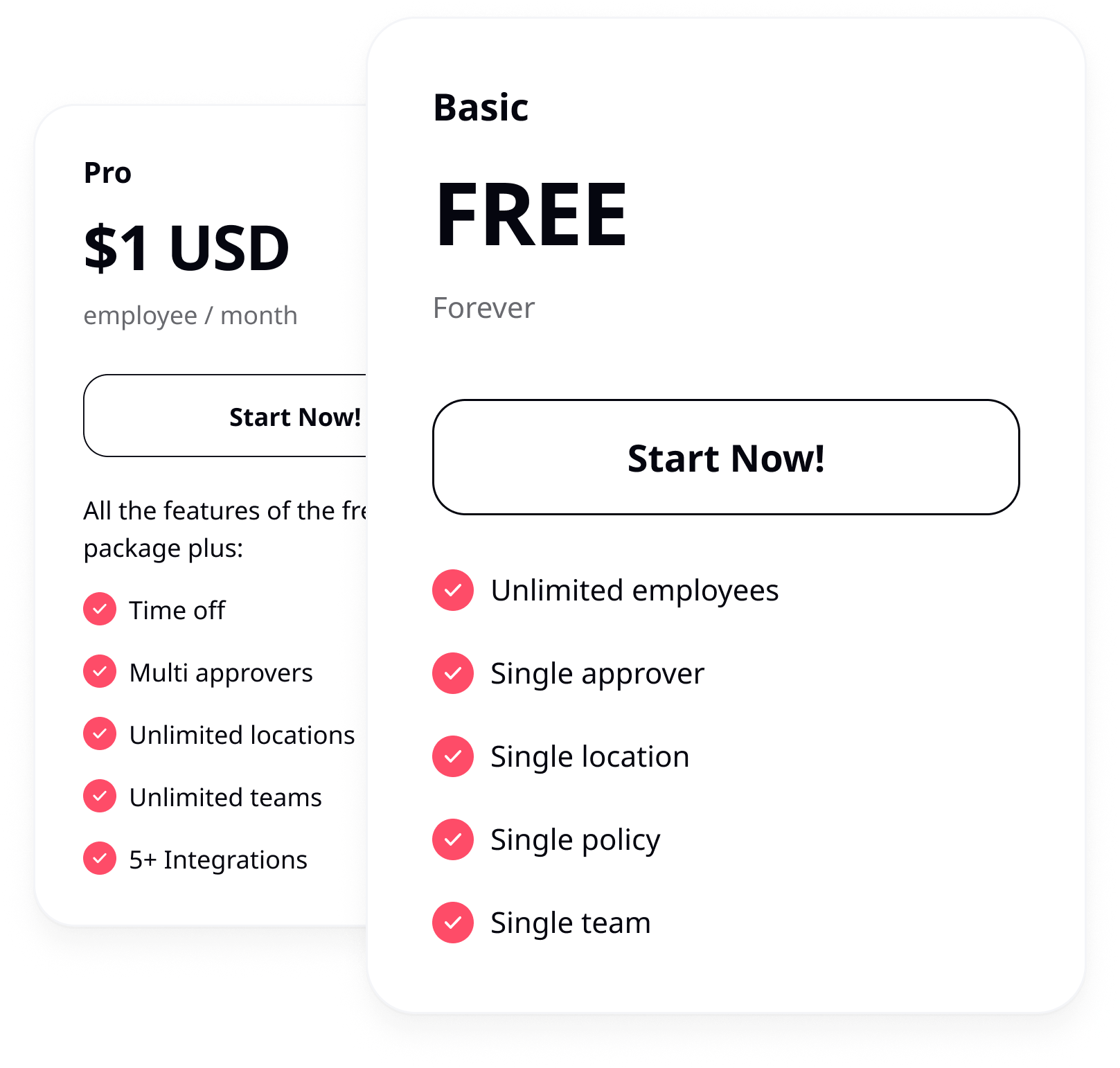 Your data is safe and secured
Secure connectivity
Data encryption safeguards your information during transmission via TLS and at rest.
Secured data centers
Our hosting service provider is AICPA, SOC 2 Type II, SOC 3 Type II certified, and more.
Backup and Disaster Recovery
Every day, your data is backed up securely encrypted in diverse locations to enhance your protection.
It would be great if the shortcomings were taken care of and the Outlook integration was available. As it is right now its lacking.
I like how easy it is to set up and implement. Employees are able to set up their accounts with their invite and use it without question. I'm able to make sure there's no overlapping vacation and that people are able to take the required time off
The ability to track time off accruals and use over 20 employees is simple.
Day Off is very easy to use for everyone involved: from the employees to the supervisors. We love how it integrates with our Google calendar so everyone can be aware when people are out of the office. It is a simple (in a good way!), but efficient product.
This is a really useful app that fills a need in the market. We've got about 30 employees, and getting them all set up on the app was fast and easy. Developers are very responsive as well if there are any issues. Great app!"
CFO, Lorne Park Capital Partners Inc.
I love that each employee can access their time. The shared calendar is great too. Most aspects of the app are easy to use and straight forward. There isn't much to hate.
Day off is a great app, easy to manage and easy to set up, allows you to eliminate paper work and be more organized.
I can better plan the staff slack scale, and plan better in relation to scheduling vacations. and I don't get lost when an employee is on sick leave, the app shows me when he will have to go back to work
It's been amazing and saved me so much time as a manager.
Excellent, solved the problem I was hoping to, and freed up time and resource and made the Leafyard team grow faster.I really love that it integrates with my calendar, and the email nudges that allow me to easily approve days off
This app is solving our communication gap between staff and it effortlessly keeping track of staff's days off which was not happening before.
I love it. We're a small company and it's easy to let time off get way off track if not monitored. This solves all my issues with tracking and is easy for all of us to see balances at any time. Super easy to make a request too.