Public holidays in Canada are a reflection of the country's rich cultural legacy, which is broad and varied. Canadians have the opportunity to commemorate historical occurrences, cultural landmarks, and shared values through a range of national and provincial public holidays observed throughout the nation. The purpose of these holidays is to bring communities together while offering a break from everyday routine.
Legislated public holidays at the federal, provincial, or territory levels, together with national, religious, or cultural celebrations, make up Canada's statutory holidays. Nowadays, most employees—public and private—are entitled to a paid day off. In addition to numerous provincial statutory holidays, there are five national holidays: Canada Day, Good Friday, New Year's Day, Labour Day, and Christmas Day. There are six extra holidays for federal employees.
Canada Statuary Holidays 2024
Public Holidays in Canada 2024:
New Year's Day: Monday, January 1
Good Friday: Friday, March 29
Easter Monday: Monday, April 1
Victoria Day: Monday, May 20
Canada Day: Monday, July 1
Civic Holiday: Monday, August 5
Labor Day: Monday, September 2
National Day for Truth and Reconciliation: Monday, September 30
Thanksgiving Day: Monday, October 14
Remembrance Day: Monday, November 11 (Service centers closed Monday, November 13)
Christmas Day: Wednesday, December 25
Boxing Day: Thursday, December 26
How Can Day Off Help You Import Public Holidays?
Day off will enable you to import the official holidays of any location you have in your company, so if you've employees from different countries you'll be able to set the official holidays of each location individually to prevent any confusion or time-consuming manual organization.

You will be able to create any location you need, by choosing the location name, time zone, set the working days and weekends, and you will be able to choose a specific leave policy for each location.


Then you will be able to import the official holidays from google calendar just chose the location name, the year and all public holidays will be ready for you can select all of them or specific one you need.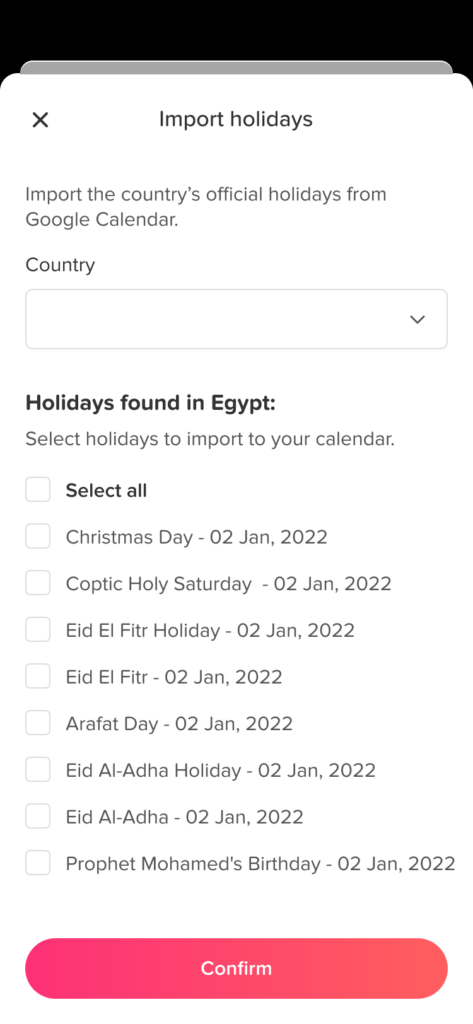 Ultimately, the public holidays are successfully imported, and you can manually add any custom holiday you like.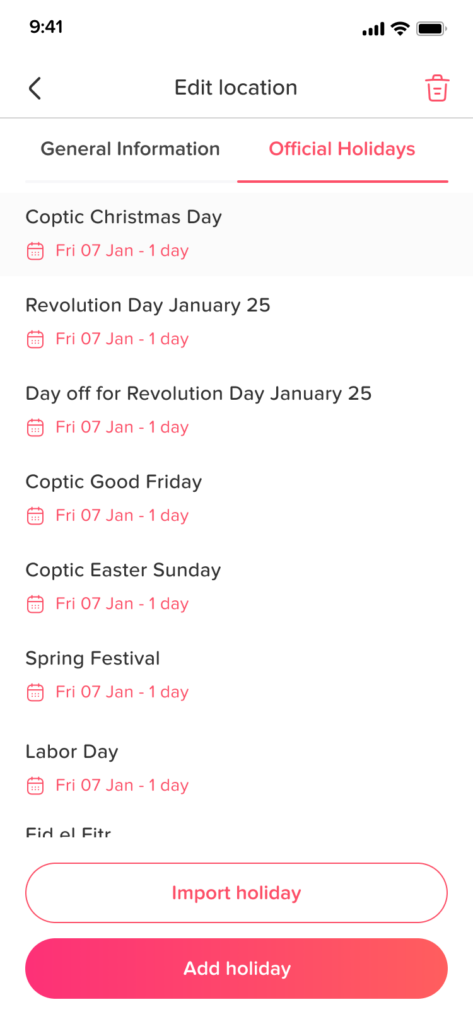 Conclusion
In summary, Canada's public holidays are an important part of the country's historical and cultural aspects, reflecting its rich legacy and ideals. For Canadians, these holidays offer priceless chances to commemorate, celebrate, and spend time with family. They also provide opportunities to embrace national unity, honour the nation's rich traditions, and acknowledge the contributions of many populations. It is probable that Canada's public holidays will always be significant times for introspection and bonding.