The #1 leave tracker for your team vacations and absence
Save the time spent tracking your team vacations/PTOs, Day Off will help you track your team's leaves and absence in one place. In seconds you will set up your leave policies, approval workflow and enjoy the unique experience.
Unlimited employees, free forever!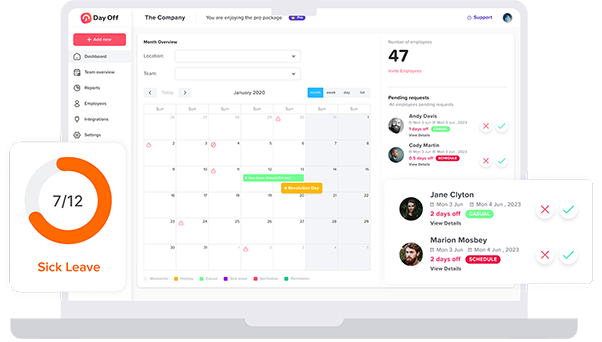 Discover the power of Day Off's free version! Track your team's vacations, leaves, and PTOs with unlimited number of employees. Upgrade to our PRO version for exclusive access to advanced features and take your team management to the next level!
Customers who use Day off

Day Off is built to suit different business types, and for every HR manager to plan, track and manage employees' leaves, vacations and PTO.
See all features
Calendar view for both company and employee, to track team vacations and time off, monitor team absence and workflow, generate consolidated and detailed reports for any period and send announcements to the team.
Real Stories from Real Customers

This is a really useful app that fills a need in the market. We've got about 30 employees, and getting them all set up on the app was fast and easy. Developers are very responsive as well if there are any issues. Great app!"
Carlo Pannella
CFO, Lorne Park Capital Partners Inc.

Impressive free package, very powerful, supporting a highly growing team easily, simple and easy to use, nice mobile apps!
Amr Shawqy
CEO & Cofounder, ExpandCart.
Huge time saver, very easy to use, keeps everyone on the same page.
Sameh Meligy
CEO & Cofounder, Revamp Software Solutions.