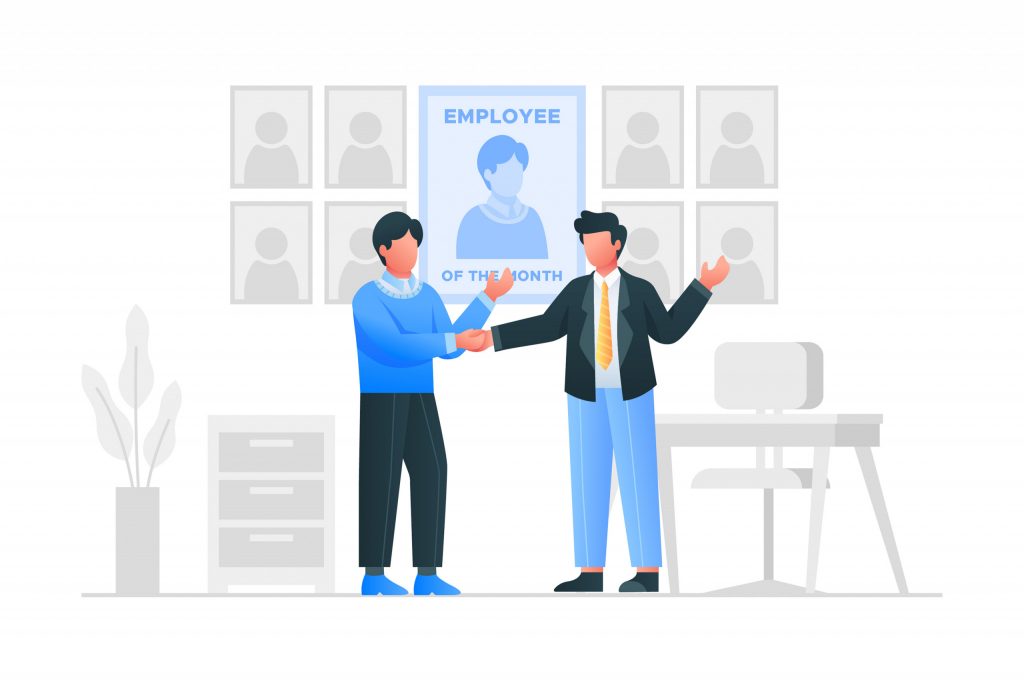 Employee Appreciation Day is an official holiday in the USA and Canada which is a day where companies thank their employees for their hard work and honors employees globally for their work. On Employee Appreciation Day, they are given gift cards as a token of appreciation for their work. Appreciation is an important boost for a human to make them feel confident and move forward in their life, an employee is a human as well which needs to be appreciated to produce their maximum effort and not to be shy on saying their opinions and being creative. It is the employer's duty to create a convenient appreciation system that makes the employees feel appreciated and valued.
1. Employee of the Month.
One of the many methods of appreciating an employee and the most common one is employee of the month. This way of appreciation must be present in any successful organization to make some sort of healthy rivalry between the employees by doing their jobs to the max. At the end of the month, an employee is chosen based on their achievements, punctuality, completing their tasks, being a role model to others, and many other things as well. The employee of the month is given many prizes for their hard work, they are given a certificate, gift cards, sometimes they are given a big prize as a paid vacation in someplace chosen by the organization or a pay raise in this month and in some organizations, they hang this employee's picture on the wall as a form of appreciation and encouragement.
2. Cutting Working Hours and PTO
Employees work for many hours along the whole week so occasionally as a form of appreciation and gratitude for their efforts making them do an early leave once in a while is good, so that they can return to their personal matters and life. On the other side making a rational plan by sending some of the employees home not all of them, then the next day sending the rest and keeping the others, to keep this plan as orderly as possible using an employee leave tracker is preferred to always keep in knowledge the present employees in the organization. Another form of gratitude is increasing their PTO if they are doing their work to the fullest way possible and tracking the employees by an employee PTO tracker.
3. Sorts of Encouragement
Any human loves being praised and appreciated. So always praising the good work is the fuel that makes the employee keep up the good work. Encouragement can be materialized like in any given moment getting the employees some sort of snacks is a good way of encouragement at the end of a stacked workday ordering pizza for the staff is a good way of showing appreciation or getting ice cream during the workday. The employer must always praise the employees in a way.
4. Birthdays and Holidays.
An employee's birthday most of the time is on a workday, so getting the employee a birthday cake or a small cupcake or even singing them a birthday song makes the employee know he is remembered and appreciated. There are many holidays in the year that sometimes it is hard to keep track of so by making the employees use an employee holiday tracker makes it easier to track the holidays. On big and important holidays as a form of appreciation and goodwill giving the employees a small raise in the month of the holiday even if it is not noticeable in the payroll, but it makes the employees feel appreciated.
5. Digitalization
Our modern-day world is always in constant evolution so providing the employees with ways to work from home makes it easier for them in case of an absence or an early leave. Work from home became an important standard in any job so that if any crisis happens in any given moment the work doesn't get delayed. Also providing the employees with applications that make it easier for them in their everyday work life as: an employee self-service software which employees use to change their contact information, their benefits information and can also track their payroll. Any applications that make it easier for the employees in their everyday jobs is a form of appreciation by wanting the employees to save their energy and time for their work and families.
6. Hearing out the Employees
An important pillar in a successful organization is hearing out the employee's ideas and encouraging the employees to share their ideas to gain some sort of confidence and make them know that they are part of the team. The employees must feel comfortable when sharing ideas and feel appreciated because most of the time their ideas are good and can be used to improve the organization in many ways.
7. Paid Vacations
Offering employees paid vacations once or twice per year for the employees and their family is the greatest form of appreciating the employees and thanking them for their hard work throughout the year. These vacations or day off are paid by a certain percentage or fully paid in order to help employees be mentally stable by separating their minds from work for a couple of days. The employees' vacation must be always monitored by an employee vacation tracker, to track the employees at hand at any given time
Most organizations get offers at restaurants or clothing stores, so they get gift cards every now and then. Handing those gift cards to employees as a prize for every big task completed is a good way of showing appreciation and encouraging them for the next tasks.